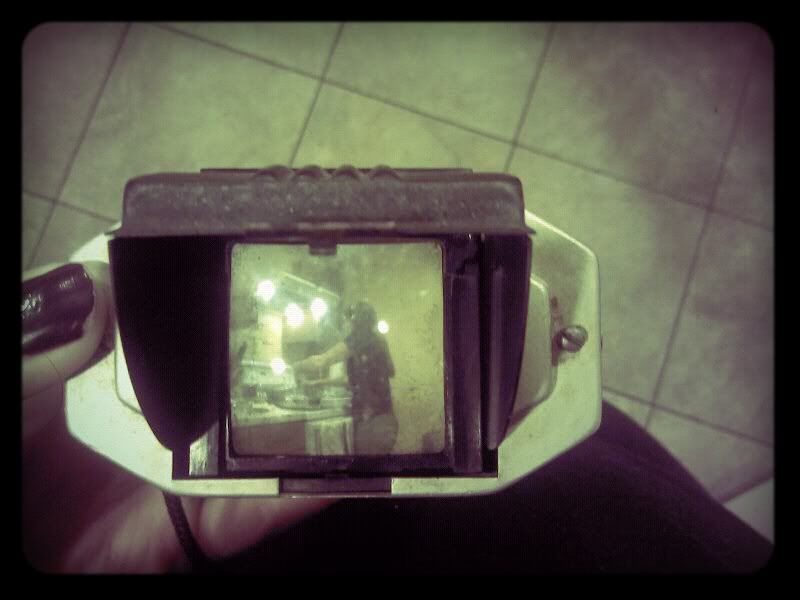 The first time I tried TtV (Through The Viewfinder), it I didn't know other people were doing it and there was a better way to do it and your pictures came out looking like amazing old-timey square slides!
So, I did some research and experimented a whole lot. And this is what I found!
So, basically, if you shoot pictures through the viewfinder of a Twin Lens Reflex camera with your SLR camera, they turn out looking awesome. But without the help of a cardboard tube, some ductape, and a few tips they may not turn out as awesome as you may want. Here is what you need:
-An old TLR camera. The older and dirtier, the better, in my opinion. My TLRs are pretty beat up and the lenses are pretty dirty around the edges. But this just adds some really cool and unique vignetting, light leaks, distortion and dust.
-A container of Pringles. Eat all the Pringles, or feed them to your kids (which is what I did.... allergic to Pringles :( ).
-Ductape. Any color is fine, but black is classy, of course.
-A lens hood that will fit your camera.
***
Step 1: Once your pringles are gone, cut off the bottom of the container and wipe out the inside with a dry paper towel.
2. Then ductape the container to your lens hood. You'll have something like picture No. 2.
3. Attach your super-fancy new pringle-lens-hood to your camera and you're ready!
4. Open up your TRL camera viewfinder and place your PLH (lens hood) over it.
5.Set your camera to Macro and hold the whole contraption from the bottom of the the TLR camera to take pictures.
6. Don't panic when you end up with a picture like the one above. You just need to crop it and play with the exposure a bit. TtV for the winnnnnnn!!!!!!
***
Tips...
- For outdoor pictures set the aperture at 2.0, or your pictures will turn out WHITE and terrible.
- Don't worry if they are a bit over or underexposed. You can fix this in editing.
- Use your flash, especially if it's an outdoor photo and sunny. I don't know why this works, but it works like a charm for me!
- Use Picmonkey.com for editing. They allow you to straighten your photo and lighten it up if you need to. Also, very important... You can set the crop tool to "square" and play with it just a bit. I don't have photoshop, and I find Picmonkey is pretty much all I need. It's super easy to use.
-You can find pretty cheap TLR cameras on Ebay and Shopgoodwill.com
-Play around with it! I know there are things I haven't discovered yet and ways to use TtV that make it even more rad.